Session at Cayucos Ramp, the fourth and final part of our 'Skate Cambria' Trip.
Read More
Good fun at Cambria's 'Skate Day' event to help raise awareness and funds to rebuild a new permanent concrete skatepark.
Read More
San Luis Obispo Skatepark with the squad.
Read More
Part 1 of our weekend 'Skate Cambria' Trip.
Read More
Kelvin Hoefler, featured in Monster Energy's "Aspire-Inspire" series.
Read More
The Powell-Peralta crew set up this school yard mega ramp for some extracurricular activities.
Read More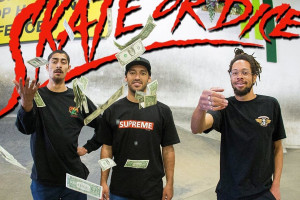 Vince, Kelvin, and Spencer got in a game of 'Skate or Dice' at The Berrics
Read More
'Best Trick' at the Lancaster Skatepark grand opening. Video by Dale Decker.
Read More
Action packed day for the Powell-Peralta squad with Dale Decker.
Read More