From 3/12-3/26, the Powell-Peralta squad jumped in the van and set out to the Mid-West to hangout, skate, eat, and laugh with local rippers. The van consisted of Charlie Blair, Eddie "Mighty" Moreno, Brendon Villanueva, Nolan Munroe, Lance Wilewski, Corey Blanchette, Jarren Duke, Roman Pabich, Team Manager Deville Nunes, Filmer Terry Larue, and Social Media Manager Micaiah Furukawa.
March 12th, everyone met up at Deville's house in Lake Forest, CA and hit the road. First stop, Vegas! Not to hit the casinos though. It was to pick up flow rider, Lance Wilewski. This was a last minute decision. Lance hopped in the van knowing that his spot may be replaced at his work by the time he came back home. We hit up a ditch with a pretty gnarly wall ride. Some of the guys hopped out of the van for a quick session, then it was time to get back on the road. We stopped at a hotel in Gallup, NM to catch some Zzz's. March 13th, drove through Moriarty, Santa Rosa, Adrian(we drove passed a semi truck full of bees), and many more unfamiliar towns that we've never heard of before. We stopped at Cadillac Ranch in Amarillo, TX to take some photos. For those of you that don't know what it is, it's a public art installation and sculpture of 10 old Cadillac automobiles half-buried nose-first in the ground, representing a number of evolutions of the car line. And they're covered with layers and layers of spray paint. We ended up staying the night in Amarillo, TX.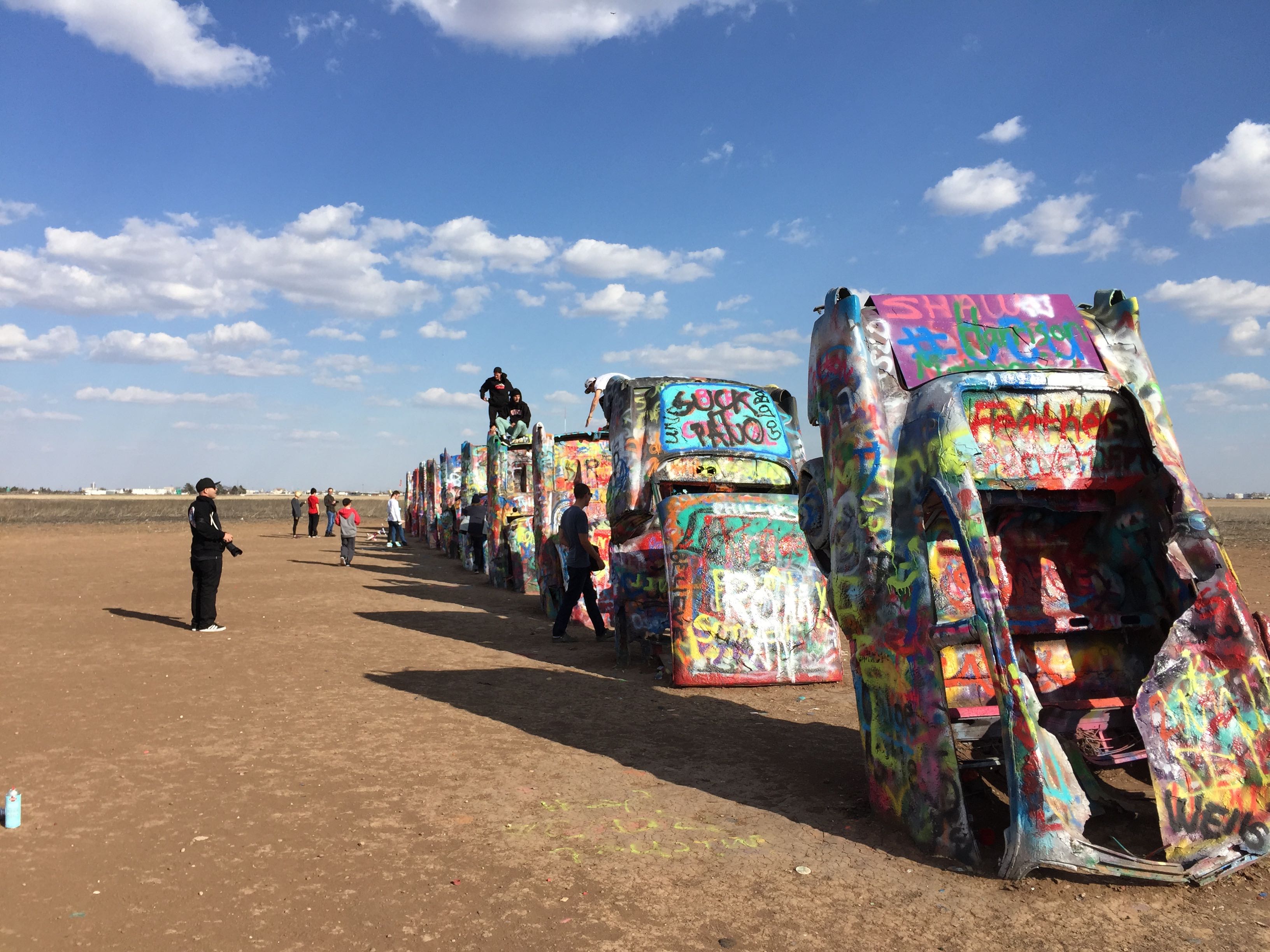 March 14th, we set out to Boardertown Skate shop in Fort Smith, AK! After about 7 hours on the road we pulled up to the parking lot for the skate shop/skate park. Shawn, the shop manager greeted us and told us the kids were ready to hangout with the Powell-Peralta crew. You'd think that after 3 long days of driving in a van it would be hard to warm up for the session. But no, the guys were ready to shred! You could feel the energy bouncing around the walls inside the park. Nolan was flying up into the ceiling with his Madonnas, Jarren was smashing around the park, Roman threw down an Egg Plant and Heelflip Indy within the first 10 minutes, Eddie was making new friends left and right, Brendon began crushing every rail, kicker, and set in sight, and Corey was flipping in and out of every grind and slide trick. Later in the evening, the team brought the box of FREE PRODUCTS out to share with all of the locals. Brendon and Mighty organized a race around the skate park where there was a huge collision with no injuries on the wall ride. There was a best trick contest down the set and the two best battled it out in a game of SKATE for a complete skateboard where the winner ended up giving his prize to his opponent. We skated, hung out, and laughed some more with the locals until it was time for the park to close. We said our goodbyes then ended the night with a dinner at Applebee's.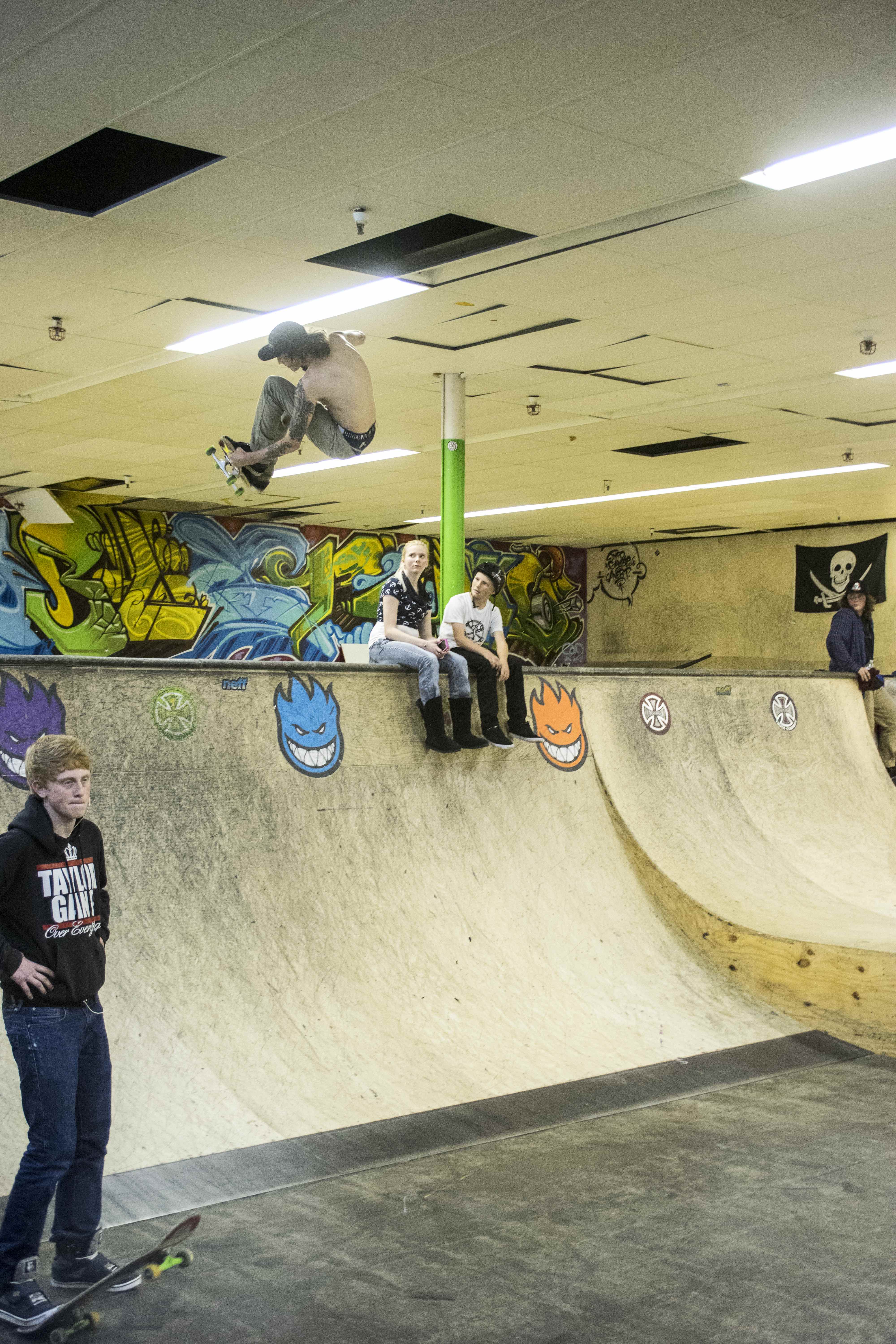 Nolan Munroe, FS Air as Roman and girly friend watch.
Corey Blanchette and Brendon Villanueva Insta Clip Filmed by Trilliam Lloyd
Race for a mini complete
Thanks for having us Boardertown, we had a great time!!!